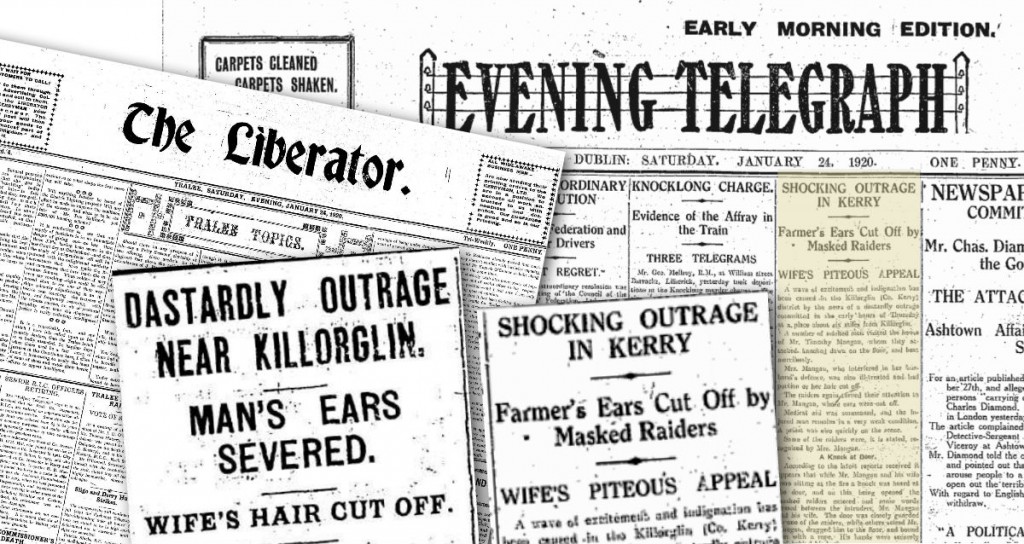 Farmers Ear Cut Off and Wife Assaulted 
In January 1920 the War of Independence intensified with the IRA carrying out a number of offensives in almost every county. To mark the anniversary of this aspect of the campaign, this month we offer stories about the conflict as reported by the newspapers of the day.
Not all crimes during this period might have been politically motivated or reported as so. For some, it was a period of opportunistic criminality, where under the cloak of republicanism raids on property was carried out. It was also a time when a number of old scores were settled. One hundred years ago this month a 'revolting outrage' took place near Killorglin, county Kerry when a man's ears were severed from his head during an attack on his house.
At a place called Glencultane, about three miles from Killorglin the home of Tim Mangan junior was attacked by a gang of twelve men. From the outset, the men were said to have 'adopted a menacing attitude' and were intent on causing injury to Mangan. He was easily overpowered by the gang, thrown on the floor and tied up with a rope. There he was held down by the men and then a shears was used to sever his ears from his head. The victim was left 'writhing in pain' while the gang also attacked his wife, attempting to shear her hair. Dr. Dodd of Killorglin was called but found Mangan very weak from the loss of blood and the Rev M. O'Donaghue CC administered spiritual aid. Despite the best efforts of Inspector Heard and District Inspector Riordain from Killarney no arrests were made. The attack, it was said 'caused widespread indignation over what was hitherto a peaceable district' and was widely condemned. The following month ten men were brought to trial for their part in their attack but after a lengthy trial, their case was adjourned to the next assizes. Four men were discharged but six were returned for trial which was later transferred to Cork.
Download Source: Evening Telegraph, 24 January 1920,
Download Source: The Liberator, 24 January 1920
,