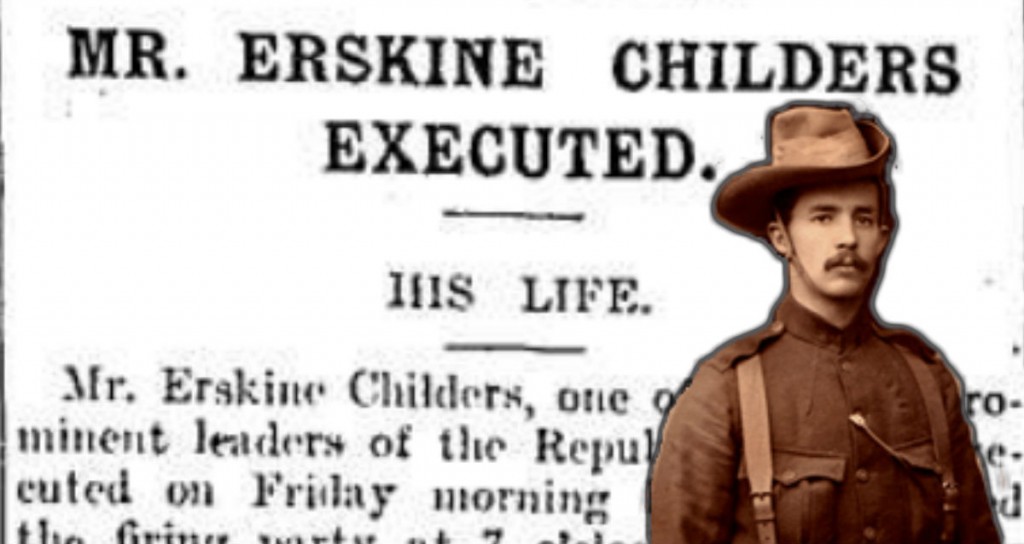 Death by firing squad of Erskine Childers
The death by firing squad of Erskine Childers on 24 November 1922 was one of the most high-profile and controversial executions of the Irish Civil War. The Free State government executed 77 anti-Treaty prisoners during the Civil War in a vicious and escalating campaign of reprisal killings. Childers, the man responsible for bringing the weapons to Ireland during the summer of 1914 for Irish Volunteers, was the home of his cousin, Robert Barton, in county Wicklow. Found to be in possession of a weapon, reputedly given to him by Michael Collins, Childers was sentenced to death.
Childers, a vocal opponent of the Anglo-Irish Treaty, led an interesting and varied life. Born in London in 1870, in 1898 he enlisted and served in the Boer War in South Africa. As a writer he was best known for his novel T
he Riddle of the Sands
in 1903. Childers settled in Dublin in 1919 and was elected to the Dáil in 1921 as a member for Wicklow. He was appointed Minister for Propaganda and was the secretary to the Irish delegation during the negotiations for a Treaty with Britain in 1921. Childers was sentenced to death and was executed at Beggars Bush Barracks on having first shaken hands with each member of the firing squad.  He is buried in the republican plot in Glasnevin Cemetery. His eldest son, also named Erskine, went on to become the fourth President of Ireland.

Source newspaper: www.irishnewsarchives.com
Nationalist and Leinster Times 1883-current, Saturday, December 02, 1922; Page: 2