Joseph & Grace Plunkett's Doomed Wedding
Grace Gifford became engaged to Joseph Plunkett in 1915 . The wedding was planned for Easter Sunday 1916 - the date of the Rising, which was put down and its leaders sentenced to death. Grace and Joseph Plunkett were married on 3 May in the chapel of Kilmainham Jail, only a few hours before his execution.
While I was viewing the archives and reading the incredible headlines that were published during the 1916 I came across a very sad article about a "Doomed Wedding" , an article that paints an image of  Grace Gifford purchasing the wedding ring.  You can download the full page below to view the article.  For the full paper and all the papers published during 1916 please visit our FREE online 1916 newspaper archives. See below.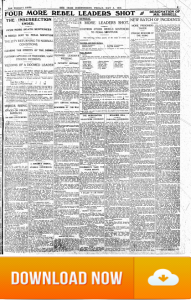 FREE 1916 Newspaper Archives below ALSO see 25% discount code for our 300 years of  archives at www.irishnewsarchives.com