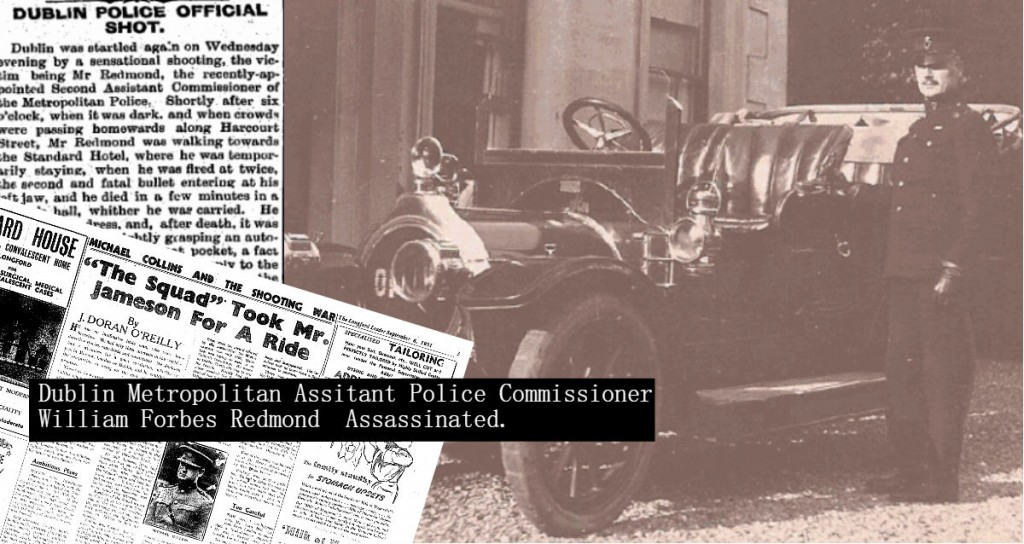 In January 1920 the War of Independence intensified with the IRA carrying out a number of offensives in almost every county. To mark the anniversary of this aspect of the campaign, this month we offer stories about the conflict as reported by the newspapers of the day.
Dublin Metropolitan Assistant Police Commissioner William Forbes Redmond Assassinated 21.January 1921
On 21 January 1920 Dublin, according to newspaper reports, was 'startled' with the sensational shooting of William Forbes Redmond, who had recently been appointed as Second Assistant Commissioner of the Metropolitan Police.
Just after darkness fell and when crowds of people made their way along Harcourt Street two gunmen fired a number of shots at Redmond as he made his way towards the Standard Hotel where he was temporarily staying. Conflicting reports emerged as to where the attackers made their escape, but Redmond was carried to a nearby doctor's house where he died a few minutes later. One of the bullets had passed through his jaw which was said to have caused the mortal wound. Redmond was found to be clutching an automatic pistol but was unable to fire it. He was married with two daughters. Redmond was Head of DMP 'G' Intelligence Division and had been brought from the north in December 1919 in an effort to capture Michael Collins and the other members of his 'squad'. On the evening prior to his murder Redmond had ordered a raid on Cullenswood House, which the IRA had been using an office. Although Richard Mulchay managed to escape, important files had been left behind and which fell into Redmond's hands. Collin's obviously enraged by this ordered that he be shot with two members of his squad carrying out these orders the following day. With information from an informant in Dublin Castle and help from Belfast where he had obtained a photograph, Collins's squad had little difficulty in identifying and shooting Redmond.
Download Source: Nenagh News, 24 January 1920, page 3 / Longford Leader
Nenagh Guardian 1838-current, Saturday, January 24, 1920
Longford Leader 1897-current, Saturday, September 08, 1951 pg 3
Sunday Independent 1906-current, Sunday, January 19, 2020