Easter Rising Cancelled by Eoin Mac Neill leader of the Irish Volunteer Force
The note below is dated Saturday 22 April 1916 and is signed by Eoin Mac Neill, who was the head of the Irish Volunteers force.  This cancellation of the parades and manoeuvres brought confusion amongst local leaders and disrupted the Easter Rising.
MacNeill had asked for the order to be delivered to local commanders around the country after he found out about plans by the Irish Republican Brotherhood to begin the rebellion against British rule in Ireland on Easter Sunday. Pádraig Pearse had issued orders for "parades and manoeuvres" to begin on Easter Sunday, which was a signal to volunteers to begin the rebellion.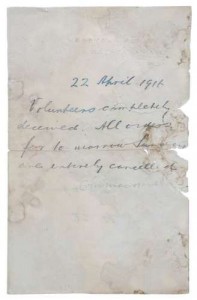 Note reads:
"Volunteers completely deceived. All orders for to-morrow Sunday are entirely cancelled," signed by MacNeill on what is now a tatty piece of paper, embossed with an address at Rathfarnham, Dublin
He himself brought a longer version of the note to the Sunday Independent newspaper, where it was inserted as an advertisement.
DOWNLOAD THE  SUNDAY INDEPENDENT FROM THE 23.April.1916 WITH THE VERY ADVERT  CANCELLING THE UPRISING BELOW! !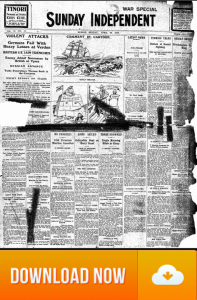 Get FREE access to every newspaper from the year 1916  through our FREE newspaper archive portal HERE or click logo below.  Also you will receive a 25% DISCOUNT ON MEMBERSHIP TO IRISH NEWSPAPER ARCHIVES:


Sunday Independent April 23, 1916