Edward VIII and his Abdication
December 10th 1936 was a day with a heavy historic importance for the British monarchy. King Edward the VIII executed an Instrument of Abdication. The Abdication Act implied that Edward VIII and any children he might have were excluded from the succession to the throne. His reign was one of the shortest in history, from January to December 1936.
It all started in 1930, when Edward met and fell in love with Wallis Simpson, an American married woman. Their intense affair had been the subject of countless stories, and although she obtained a divorce in 1936, and became a divorcee for the second time, it was clear that she would not be accepted as Queen. Therefore, Edward had to make a choice between marrying Wallis Simpson and the throne.
The Longford Leader, from the 19th of December 1936 describes Mrs Simpson: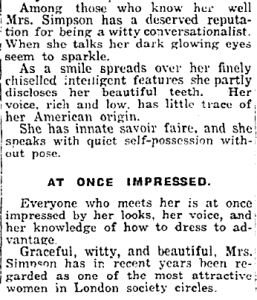 The facts surrounding the abdication made headlines worldwide. The Irish newspapers filled the first pages with the details of the abdication and of course the reasons behind it. The titles were spectacular: "Edward VIII an Exile", "Dramatic Scenes at Westminster", "The World as Mr. Windsor". The Irish Press from the 11th of December reports: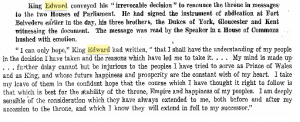 Also, The Kerryman from the 26th of December 1936, uses the first page title: "Financiers made King Abdicate", implying that the true reasons behind the abdication were in the hands of the bankers who did not want Edward to be in their way of holding the "Money Power". A politician of the time we believe, Shawn Fada, is interviewed by Paddy Joe: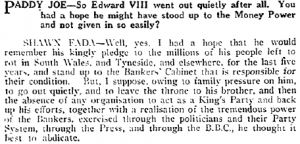 Even in 1937, the Irish press continued to follow Edward and in March 19th 1937, the Irish Independent reported about the Duke's wedding plans.
Their sources were not very good it seems as Edward married Wallis Simpson on June 3rd, 1937 in a ceremony in France. He died in 1972 in Paris, after having lived solely abroad for 36 years. Wallis died in 1986, at 89 years of age.