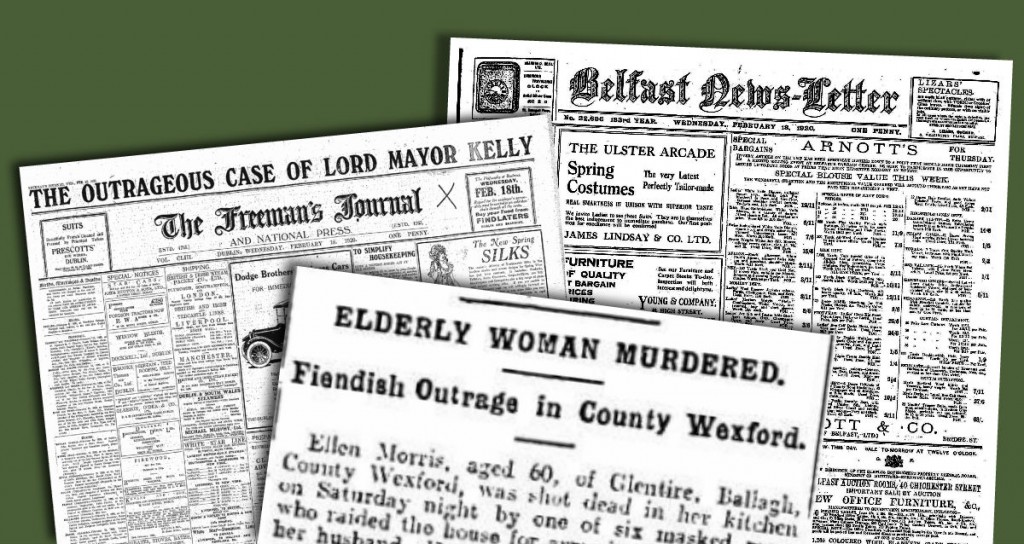 Murder of Ellen Morris - Fiendish Outrage
A 'fiendish outrage' was how the
Belfast Newsletter
described the murder of Ellen Morris in county Wexford in February 1920.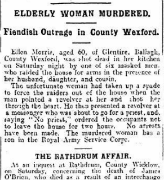 Aged 60 and a native of Glentine, Ballagh near Enniscorthy. Six masked men stormed the Morris house and when Morris took a spade to force the raiders out and one of the attackers pointed a revolver at her and shot her through the heart. A person in the house looked to go to get a priest but the raiders told them 'no priest' and that they were not to leave the house for two hours. The raid had been carried out on the house for arms and it was known locally that Morris had a son who was in the Royal Army Service Corps. The murder of Ellen Morris was met with revulsion locally in county Wexford and beyond. Members of the Ballagh Ancient Order of Hibernians, a nationalist fraternal organisation, provided a guard of honour at the funeral, which took place at Oulart, near Enniscorthy. Later in 1920, at the Wexford Assizes thirteen men were brought for trial and a man called John Lacy admitted firing the shot but pleaded that it was not intentional. While the case was being prepared for the assizes a number of statements were given to a police officer but he was later shot before the trial. Huge crowds were present at the trial and the prisoners were brought from Dublin to Rosslare by boat and under a heavily armed guard. Lacy, only eighteen years old, it was claimed panicked during the raid but was found guilty of murder.
Download Source: Belfast Newsletter, 16 February 1920, page 5; See also Freeman's Journal, 18 February 1920, page 4.