The Enniscorthy Easter Rising 05.May.1916
Extract - Belfast Newsletter 05.May.1916 BY PRIVATE WIRE
A correspondent supplies the Press Association with the following account of the events at Enniscorthy: —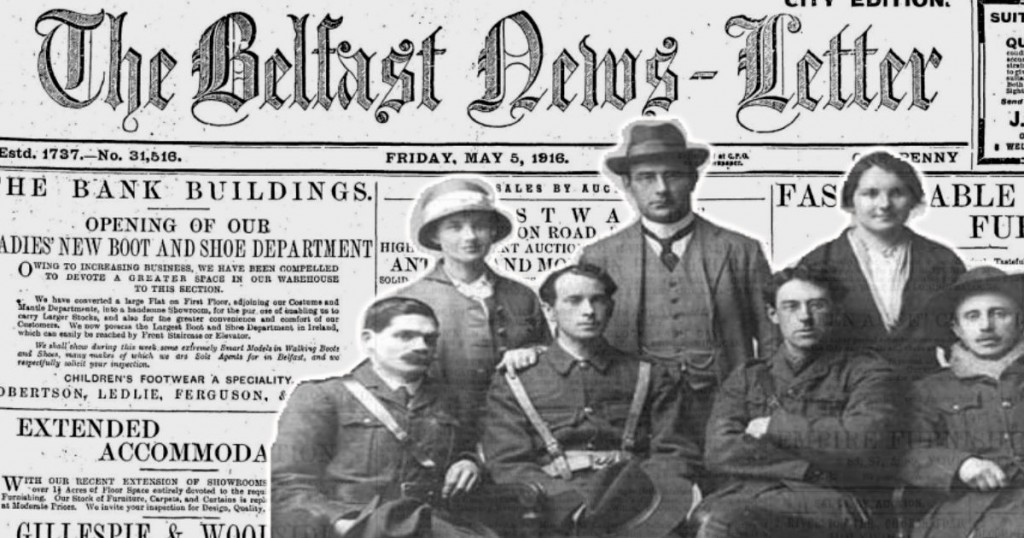 Photo Front: Seamus Rafter, Robrert Brennan, Seamus Doyle, Sean Etchingham,
Back: Una Brennan, Michael de Lacy, Eileen Hegarty
Enniscorthy Rising 1916
The town of Enniscorthy was the scene of remarkable occurrences towards the close of last week. About two o'clock on the Thursday morning 200 Sinn Feiners who had gathered about the town assembled at the Athenaeum, one of the principal buildings in the town. The building was seized and utilised as headquarters for the insurgent staff. All the principal thoroughfares were guarded and patrolled, while forces were despatched the guard the approaches to the town. About twenty motor cars, the property of residents of the town, were commandeered, and huge supplies of petrol were also procured by force.
At a quarter-past six arms and ammunition were served out to recruits for the rebel forces; and the rebel flag of green, white, and yellow was hoisted at the headquarters. A strong force of the rebels proceeded to the railway station, and a train from Wexford to Arklow was held up and seized. The rebels then cut the telegraph and telephone wires. During these operations one of the rebels fell from the telegraph pole and crushed his ribs. The party then proceeded to tear up the railway lines at either end of the town, and were successful in cutting off all communication with the outside world. A proclamation was issued by the Sinn Feiners stating that the town was in possession of the Irish rebels and warning citizens as to "their behaviour. All public-houses were closed by the Sinn Feiners and business was entirely suspended, the only people working being the employees of the gas company and the bakers, who were made to work by the rebels. Shortly after seven o'clock an encounter took place -between the police and the rebels, and two policemen who were cut off from their barracks and to take refuge in the Bank of Ireland.
To read the full article download it below; save, print and share: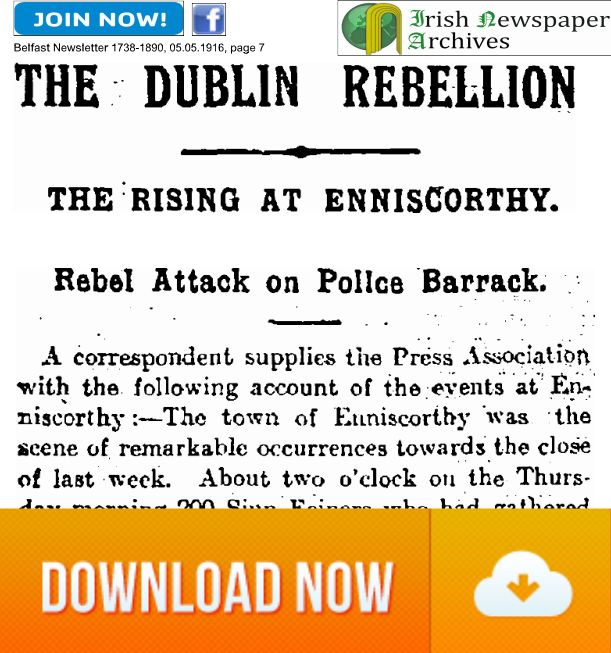 Start you adventure today and join Irish Newspaper Archives. 300 years of Irish History waiting for you to discover.