First Meeting of Dáil Éireann 1919
In the aftermath of the Easter Rising of 1916 Sinn Féin, the party founded by Arthur Griffith in 1905, was reorganised and grew into a nation-wide movement. Abstention from Westminster and the establishment of a separate and independent Irish parliament had long been part of Sinn Féin's policy. The party contested the 14 December 1918 general election, called following the dissolution of the British Parliament, and swept the country winning 73 of the 105 Irish seats. Acting on the pledge not to sit in the Westminster parliament, but instead to set up an Irish legislative assembly, 28 of the newly-elected Sinn Féin representatives met and constituted themselves as the first Dáil Éireann. The remaining Sinn Féin representatives were either in prison or unable to attend for other reasons.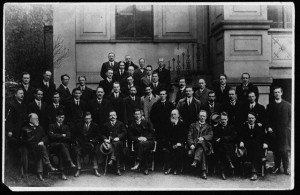 This first meeting of Dáil Éireann on 21st January 1919 was held in the Round Room of the Mansion House. Unlike the normal picture which depicts the first Dáil this photo shows the true first assembly. Éamon de Valera and Arthur Griffith were both in jail on January 21st and Michael Collins, much sought by British Forces together with Harry Boland were busy preparing plans for the successful escape of Éamon de Valera from Lincoln Gaol.
The Dáil asserted the exclusive right of the elected representatives of the Irish people to legislate for the country. The Members present adopted a Provisional Constitution and approved a Declaration of Independence. The Dáil also approved a Democratic Programme, based on the 1916 Proclamation of the Irish Republic, and read and adopted a Message to the Free Nations of the World.
Read the actual newspapers from this historic day in history and enjoy both The  Irish Independent 21.01.1919 and the Cork Examiner 21.01.1919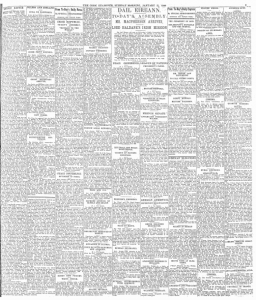 Irish Independent                                       Cork Examiner
From the rebellions to the birth of our great nation you can find it all here on the Irish Newspaper Archives gateway. 300 years of Irish History waiting to be discovered. Start your adventure today and join Ireland's largest historical gateway
Irish Independent 21.01.1919 Pg 3