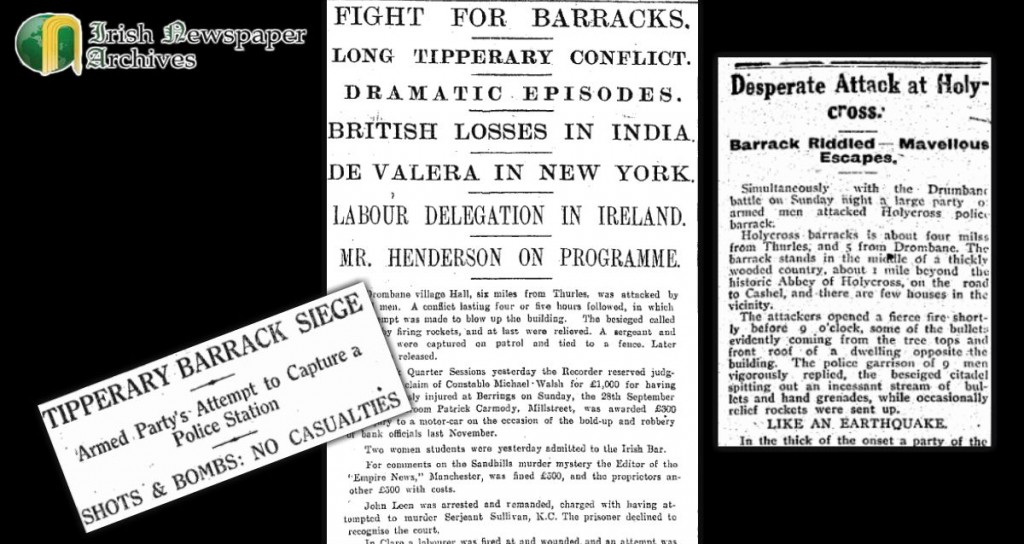 In January 1920 the War of Independence intensified with the IRA carrying out a number of offensives in almost every county. To mark the anniversary of this aspect of the campaign, this month we offer stories about the conflict as reported by the newspapers of the day.
On Sunday night 18th January 1920, in thickly wooded country around the village of Hollycross in county Tipperary the IRA arrived under the cover of darkness. With few houses in the village, it was not obvious that a 'desperate attack' was about to take place at Holycross RIC barracks, just one of many such incidents which occurred in the month of January 1920.
The attackers opened fire shortly after 9 pm having located themselves in treetops, behind ditches and in the front room of a dwelling house which they had commandeered. The nine police officers in the barracks 'vigorously replied' fire and 'occasionally' sent up relief rockets in the hope that the military would come to their aid. Some of the explosions, it was said, were 'like an earthquake'. Placing a ladder against the wall the IRA party was said to have 'hacked' at the wall to insert explosives. The mansion of CL Clarke, located just 100 yards away from the barrack was guarded and no one allowed to leave or enter lest reinforcements were sent for. On the same night the police barracks at Drombane, near Thurles was also attacked when with thirteen policemen on duty the RIC were completely overwhelmed by a force estimated to have included more than 150 men. The initial plan was also to blow up the village hall which was held by the military for more than twelve months. Sounding a whistle, the battle commenced and bullets rained down on the barracks. Lasting more than four hours the IRA party managed to blow a hole in the gable wall, while the roof of the building was also partially damaged. In an attempt to get help the police fired rockets into the sky which were seen by the police in Clonoulty.
Download Source Evening Telegraph, Cork Examiner & Nenagh Guardian :