Important Events this week in history
This week has seen its share of important events, some of which have had an impact on the world as we know it.
From music to movies, to politics and human tragedies, this week is probably marked by an event we all know well, either from newspapers, documentaries, or movies, the sinking of the Titanic.
13th of April
The first of this week's important events took place in Dublin. For all who love classical music, did you know that Handel's "Messiah" received its world premiere on this day in 1742, in Ireland's capital city?
In 1964, on this day, Sidney Poitier becomes the first African-American male to win the Oscar for Best Actor for his role in Lilies of the Field.
14th of April
On this day in 1865, President Abraham Lincoln is fatally shot at Ford's Theatre in Washington, D.C. "Nation" from the 29th of April reported the facts: http://archive.irishnewsarchive.com/olive/apa/ina/SharedView.Article.aspx?href=NAT%2F1865%2F04%2F29&id=Ar00803&sk=AD3F16E5
In 1912, on the 14th of April, just before midnight in the North Atlantic, the RMS Titanic hits an iceberg and begins to sink. More than 1,500 people went down in the sinking ship or froze to death in the icy waters.
15th of April
The RMS Titanic, billed as unsinkable, sinks completely at 2:20am. Breaking in half, it plunged downwards to the sea floor. Captain Edward Smith went down with the ship. Irish newspapers are a great research resource for this tragedy.
Another one of the important events from this week in history is related to Ireland. On this day in 1936, the Irish Government founded Aer Lingus as the national airline. Its maiden voyage was on the 27th of May 1936 to Bristol. Irish Press gave the details: http://archive.irishnewsarchive.com/olive/apa/ina/SharedView.Article.aspx?href=IPR%2F1936%2F05%2F28&id=Ar00700&sk=18639241
16th of April
Happy 50th Birthday to Jon Cryer! Alan, from Two and a Half Men made us laugh so many times!
On this day in 1912,Harriet Quimby becomes the first woman pilot to cross the English Channel.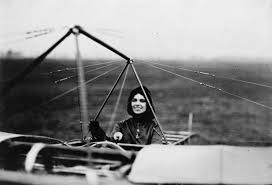 17th of April
The legendary Ford Mustang was officially unveiled by Henry Ford II at the World's Fair in Flushing Meadows, New York on April 17, 1964. This is definitely one of the most important events in automobile history.
18th of April
American actress Grace Kelly marries Prince Rainier of Monaco in a spectacular ceremony on this day in 1956. The Limerick Leader reported the details: http://archive.irishnewsarchive.com/olive/apa/ina/SharedView.Article.aspx?href=LML%2F1956%2F04%2F18&id=Ar00105&sk=7E45AA0F
19th of April
81 years ago, on this day, Shirley Temple appears in her 1st movie, "Stand Up & Cheer".
The highest-grossing romantic comedy of all time My Big Fat Greek Wedding, was released on this day in 2002.
For more information on these subjects or any other subject from Irish newspapers, visit our website.