One of the features of Irish radical newspapers was the platform they provided for poets and writers.
Harking back to episodes of Irish history or lamenting the present, poetry were used to instil pride, belief and hope for Ireland. Of course many of these poems and prose were nationalist in nature and reflected the interests of the newspaper in which they were published. Many were local scribes, but the newspapers also published the works of those like Thomas McDonagh who had been executed for his role in the 1916 rising. Some like The Watchword of Labour published international poetry including from India, which reflected their own ideals. In June 1920 The Irish Statesman also published the work of Jack B. Yeats, the brother of the Nobel prize winner, William. His poem, 'Tardy Spring', was not political in nature but an interesting inclusion nonetheless. Was it published elsewhere or in a collection of poetry? The poem in full can be found in the Irish Statesman, 19 June 1920, which is available on the Radical Newspapers section of the Irish Newspaper Archive. The poem opened with the following lines:
'Sleepy head, sleepy head, awake and begone
From under the leaves of dead yesterday,
The leaves snug and warms where you lay –
Stop from complaining, and put away moan,
cast away sleep and dry up your tears,
and weave, weave,
the green mantle that great summer wears.
Source: The Irish Statesman, 19 June 1920, page 7.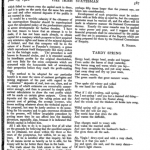 IrishStatesman_19June1920page7