Leinster Express Newspaper and Wicklow Newsletter
Irish Newspaper Archives are happy to announce two new additions the Leinster Express & Wicklow Newsletter. The Leinster Express archives are from 1831 to 2007 and the Wicklow Newsletter archives date from 1900 to 1926.
The Leinster Express & Wicklow Newsletter are a valuable source of information to those interested in finding out more about the history and people of Counties Laois and Wicklow.
The Leinster Express, serving County Laois can be classified as a weekly tabloid. The paper was part of the Leinster Leader Group, which was sold to Johnston Press in late 2005.
The Leinster Express was originally published in Maryborough (renamed Portlaoise in 1929), Queen's County (renamed County Laois in 1922), Ireland in 1831. You can now find the complete archives of the newspaper on the Irish Newspaper Archives website.
Here is a clipping from the first ever edition of the Leinster Express, in 1831: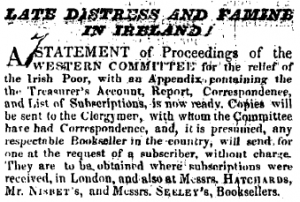 The Wicklow Newsletter will help researchers with information about people and local history of  Wicklow Town, Arklow, South and West County Wicklow, like who was part of the county council in 1900: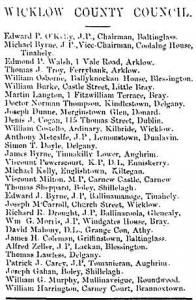 The archives are a great resource for researching your family past, or the history of a particular region. Having access to regional newspapers such as the Leinster Express & Wicklow Newsletter means that research has never been easier, and it also helps in creating a picture of the whole period of time researched.