Luke Kelly Passed Away 30th January 1984
Singer
Luke

Kelly

of the Dubliners died last night. ( 30th January 1984) He was admitted to the Richmond Hospital on Saturday night. One of the original members of the Dubliners, Mr.

Kelly

(44) had two major operations following a brain tumour in 1980, but had apparently: made a quick recovery following the most recent operation.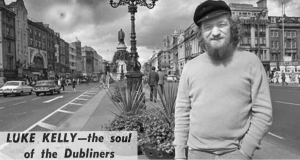 OVER the three decades since his death on January 30, 1984, Luke Kelly's place at the core of Irish cultural life has been uncontested. A 30-year conveyor-belt of bustling new talent and eager ambition has failed to unearth a voice with the passion, conviction and sense of purpose that marks Kelly as one of the world's greats ( Irish Independent www.independent.ie )
Download the Irish Press reporting on the sad loss of one of the original Dubliners Luke Kelly and view a clip of Luke Kelly describing when he met with Patrick Kavanagh: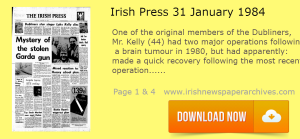 Luke Kelly Sings 'On Raglan Road'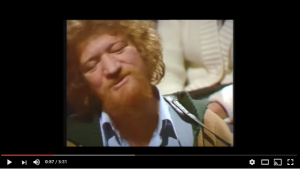 Extract:
Irish Independent 1905-current, Tuesday, January 31, 1984
; Section:
Front page
, Page:
1
Luke

Kelly

dead

Ballad singer Luke Kelly a member of the well known Dubliners group, died in a Dublin hospital last night. The bearded balladeer, who was 44, had been in a critical : condition for following a brain-tumour operation. Four years ago, Mr. Kelly, had the, first of several major operations after collapsing in Cork in April 1951 he collapsed ounce at the Embankment and again during a performace in Tallaght, Dublin. In March last he underwent a second brain tumour operation but made a speedy recovery and was able to resume his singing career with the Dubliners, who celebrated 25 years together last year. One of his best loved numbers was "Dirty Old Town". Born in the North Wall area, he was educated at Laurence O'Toole's school at Seville Place, but, left school at the age of 13 to take a job as a messenger boy.

Join Irish Newspaper Archives today and get access to 300 years of Irish History and over 9 million pages of content.

Start your discovery today.