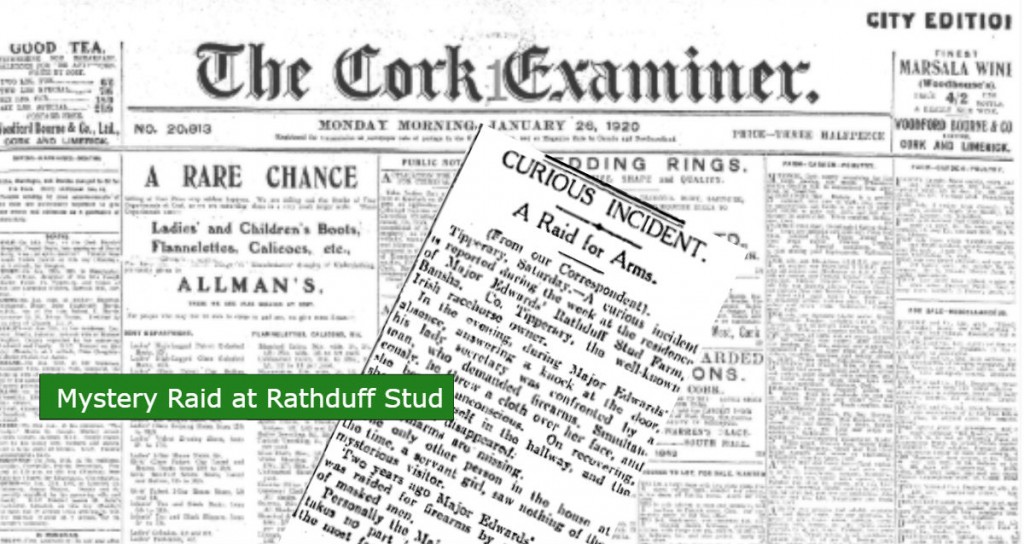 In January 1920 the War of Independence intensified with the IRA carrying out a number of offensives in almost every county. To mark the anniversary of this aspect of the campaign, this month we offer stories about the conflict as reported by the newspapers of the day.
Major Edwards Rathduff Stud Mystery Raid 25.January.1920
In late January 1920, a month which witnessed numerous raids on Irish country houses, a somewhat peculiar raid took place on the home of Major Edwards at Rathduff stud, near Bansha in county Tipperary. Edwards, one of the leading figures in the Irish horseracing, was no stranger to attack and was visited before and after this event by the IRA. On this particular evening, having heard a knock on the door Edwards' secretary, a young woman, was confronted by a man demanding arms. Throwing a cloth over her head, the man then entered the house and while he looked through some rooms, it was later realized that nothing had been taken during the raid.  Terrified by the ordeal the secretary fainted and was unable to identify the assailant. Just what the man had wanted remained a mystery. As the War of Independence, intensified raids on houses such as Rathduff would increase, regardless of the perceived sympathy of the owner. The fact that houses such as Rathduff were stocked with sporting guns made them ready targets for the IRA. Two years previous Rathduff stud had been raided by a large party of men who took a number of sporting guns. This incident was later recalled by Tadgh Dwyer, an IRA volunteer:
the information we had was that some of Carson's rifles were stored at Major Edward's place. This information proved to be incorrect, and after a. thorough search of the buildings our booty consisted of a repeating shotgun, a revolver and some ammunition. All members of the company were mobilized for this raid, as it was considered a good opportunity to give the men some practical training. The repeating shotgun was a very useful weapon. It was used throughout the whole campaign and I still have it as a souvenir of that era.
During the Civil War, in 1922, horses and cattle were driven from Edwards' demesne and walls and gates were broken down.
Download Source :