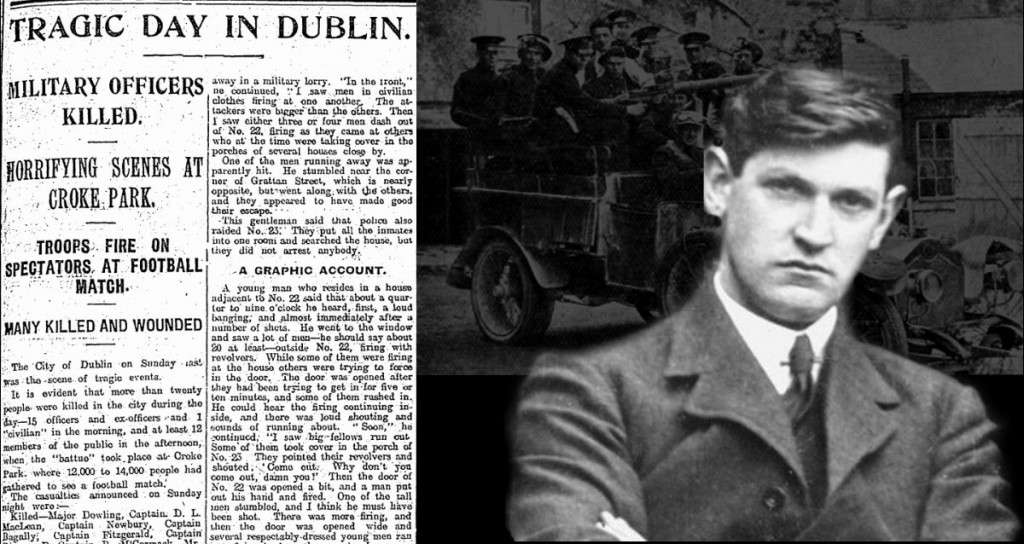 On the morning of the 21 November 1920 Michael Collins sent out his team of assassins, known as the 'Squad' to take out the British intelligence network in Dublin. The murder of 12 members of what was known as the 'Cario gang' and two police officers provoked an immediate and savage reprisal from the British military in Dublin.
Making their way to Croke Park, where Dublin and Tipperary were playing a football challenge match, the Auxiliaries opened fire on the players and spectators killing twelve. The day soon became known as Bloody Sunday and would enter GAA and nationalist folklore. The Croke Park incident had the immediate effect of bolstering support for the IRA and the independence struggle.
The dead, who numbered fourteen, included Michael Hogan, one of the Tipperary players, for whom the Hogan Stand was subsequently named in his honour. The massacre was described as follows:
Terrifying scenes were witnessed yesterday at Croke Park when, during the progress of a challenge football match between teams representing Dublin and Tipperary, military, R.I.C., and auxiliary police made their appearance. Volleys of rifle fire were heard, and 15,000 spectators fled in a desperate attempt to escape. There were most painful scenes subsequently when the dead, who include one of the Tipperary players, and wounded were picked up and removed to hospital.
Later that evening the death toll for the day would rise further when Peadar Clancy, Conor Clune and Dick McKee, members of the Dublin brigade of the IRA, were shot while in custody in Dublin Castle.