Nelsons Pillar Blown in half. IRA Bomb - Center of Dublin Rocked!!
With a  shattering explosion that rocked central Dublin, the controversial Nelson Pillar in O'Connell St. was blasted by explosives shortly before 2 a.m. today. The explosion split the 121 ft. high column half way up and toppled the 13 ft. statue of Nelson which was blown off with the broken column. ( continue reading below )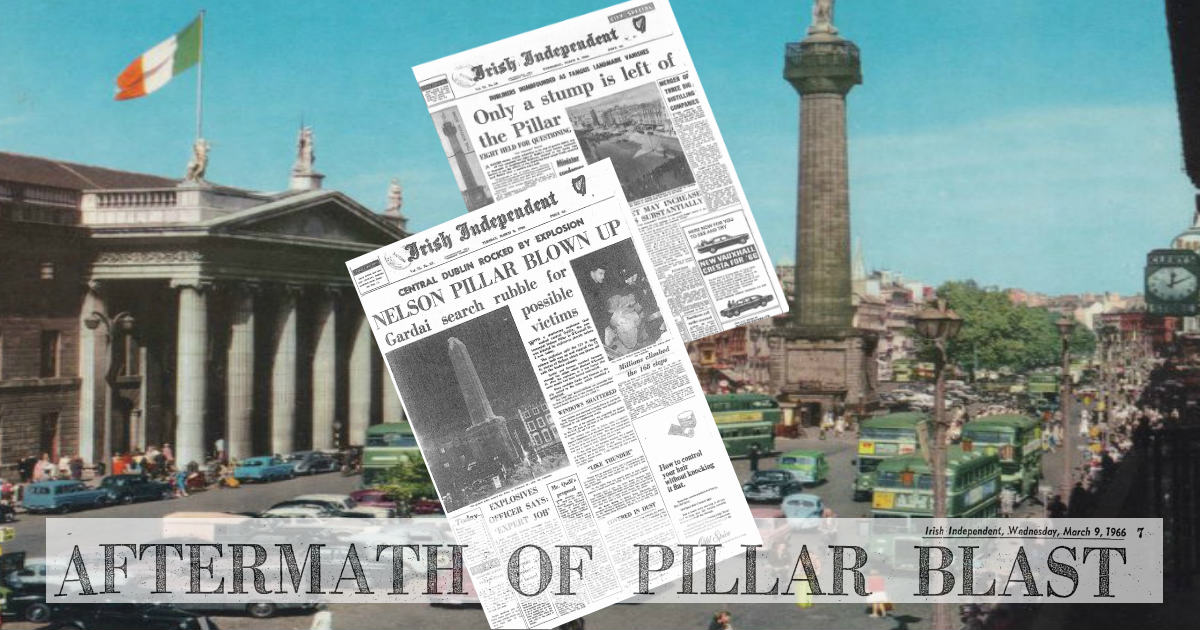 Gardai and firemen searched furiously through the rubble which blocked O'Connell St. after the explosion, as it was feared that some people had been buried underneath.Every available Garda- and fireman in the city rushed to the scene, which resembled a battlefield. Detective Chief Supt. Bernard McShane was summoned from his home at Griffith Ave. to take charge of the investigations. Special Branch detectives were also called in.
Nelson Pillar explosion "WINDOWS SHATTERED"
Shop windows were shattered in nearby Henry St. and North Earl St. Pieces of masonry from the Pillar were showered into O'Connell St. and neighboring streets.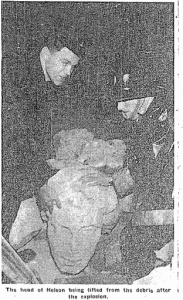 The time of the explosion was pinpointed for Gardai by the CLE. clock on the kiosk at the Pillar, which stopped at between 1.32 and 1.33 a.m. The luckiest man alive in Dublin to-day is taximan Stephen Maugham, of 29 Shantalla Road, who was stopped at the traffic lights at the Pillar. The lights turned green and just as he was about to move off, he heard the blast and ' saw a cloud of rocks falling towards him.
"I was going to the Rotunda Hospital for a sample of blood for the Blood Bank," he said. " The lights were red when I got to the Pillar. I   was waiting to move off. The lights turned green. I was moving off and I heard a terrific bang. "Like THUNDER" "There was an almighty flash and a sound like a clap of thunder. I had just time to get out. I accelerated into the street. The rocks were falling on my car and it was badly damaged. "If the lights had not turned green at that precise moment I would have been killed. It was the luck of God."
Download your copy today. Click the newspapers above!!!
Get the full story start your adventure today and discover Ireland rich historical past. 
Irish Independent 09.March.1966 Page 1
Irish Independent 08.March.1966 Page 1