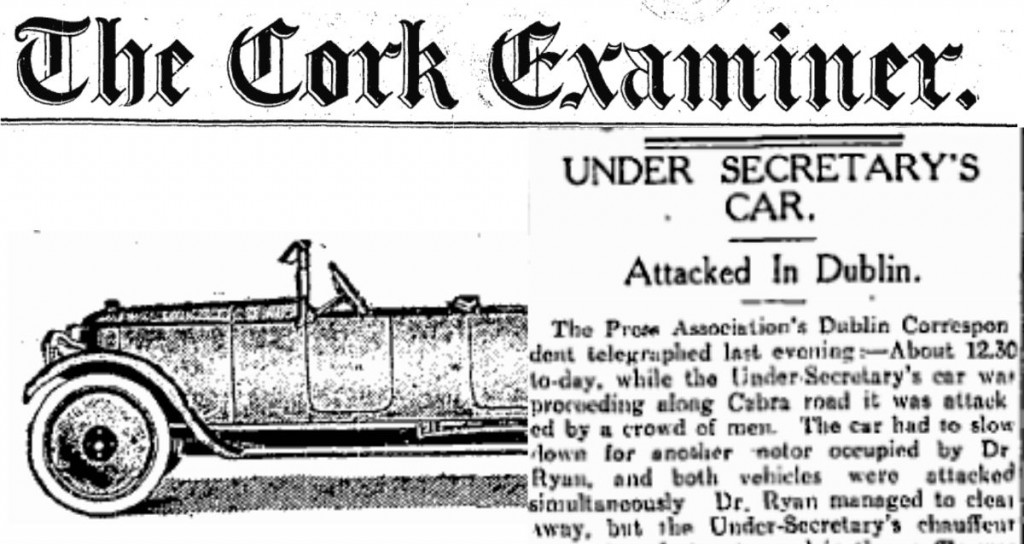 Under Secretary for Ireland, James McMahon Car Attacked
In January 1920 the War of Independence intensified with the IRA carrying out a number of offensives in almost every county. To mark the anniversary of this aspect of the campaign, this month we offer stories about the conflict as reported by the newspapers of the day.
A sensational attack took place in Dublin on 15 January 1920 when a group of men intercepted a car on the Cabra road in Dublin inflicting considerable damage to the vehicle with its occupants lucky to survive. The attack was perhaps motivated by the ongoing controversy surrounding the Motor Permit introduced by the government in November 1919 in an effort to thwart the activities of the IRA. The Cabra attack was one of a number of such instances which occurred on that day, but it was sensational in that the car belonged to the Under Secretary for Ireland, James McMahon (1865-1954). Just after 12.30pm as the car made its way along the Cabra road it was stopped by a number of men who opened fire on the vehicle and continued to inflict considerable damage to it. Another passing motor car belonging to a Dr Ryan was also attacked, with the driver suffering a number of injuries. The under-secretary's car was severely damaged; all of the plate glass was smashed with sticks and stones; they cut all the controls of the car and done considerable damage to the bodywork, rendering the vehicle a wreck. The under-secretary's chauffeur was assaulted but accompanied the car as it was towed back to the Viceregal Lodge by the military. It is uncertain whether the gang knew that the car belonged to the under-secretary but it was sensational news and one which created further debate about the Motor Permits. Later that day another car was badly damaged when it was stopped by armed men at Drumcondra Railway Bridge, where again the glass, bodywork and controls of the car were severely damaged.