Between the 20 and 30th of September 1920 the IRA continued to inflict heavy casualties on the RIC and the military.
The death of two RIC officers took place in county Tipperary, near Templemore. Two Constables, Flood and Noonan were shot dead in an ambush which also saw their colleague Constable Ferris severely wounded. On the same day another daring attack was made on at Drimoleague, county Cork where Sergeant Dee was hit five times. At another ambush at Tipperary town the RIC again received injuries as they did in county Kerry where the police were relieved of seven bicycles, two rifles, six police capes and waterproof clothes. At Cloughjordan, a Sergeant McNamara was kidnapped by the IRA. However, the deadliest attack came on 22 September 1920 six R.I.C. men were killed in an ambush at Drummin Hill, near Rineen in county Clare. A large party of the IRA lay in wait for several hours for the RIC patrol to pass and when they opened fire in merciless fashion. The Crossley Tender was attack with bombs and rifle fire resulting in the deaths of six RIC constables. The six dead men were from Cork, Roscommon, Mayo, Sligo and London. The Rineen ambush, although it provoked severe reprisals from the military, including the sack of Miltown Malbay significantly bolstered the IRA in Clare. The victory went down in local lore and is remembered in song which includes the lines:
"And long will be told of the brave and the bold in the ambush of Rineen".
Source: Irish Independent 1905-current, 30.09.1920, page 5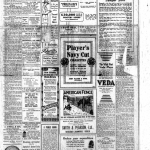 Irish_Indo_30sep1920_pag5