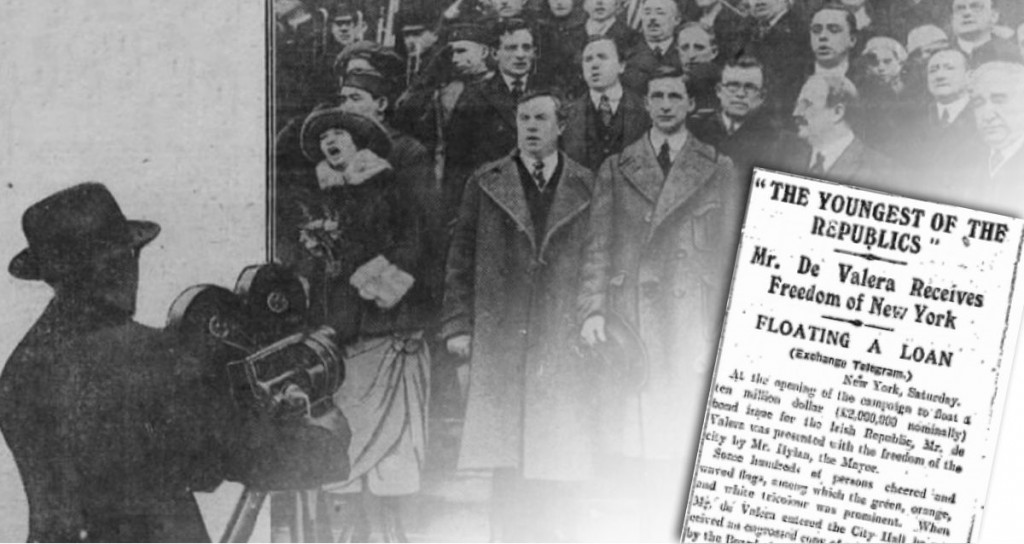 (Photo Daily News 17.January.1920)
In January 1920 the War of Independence intensified with the IRA carrying out a number of offensives in almost every county. To mark the anniversary of this aspect of the campaign, this month we offer stories about the conflict as reported by the newspapers of the day.
With the War of Independence taking on a new trajectory in January 1920, the President of the First Dail, Eamon de Valera continued to make the case for the recognition of the Irish Republic during his eighteen-month tour of the USA.
Travelling across America, de Valera was warmly received by Irish-American communities, and indeed others, as the US Presidential elections loomed. Nowhere was this welcome as pronounced as in New York where on 17 January 1920 de Valera received the Freedom of New York City. At a reception hosted by Mayor John Hylan at City Hall and before a crowd of 1,000 New Yorkers de Valera received the highest honour the city could bestow upon him. Greeted by hundreds of cheering supporters who waved flags including the Irish tricolor, de Valera heard resolutions passed by the Board of Aldermen, many of whom were Irish or of Irish descent.
The occasion also marked the floating of the First External Loan, also known as the 'Dail Bonds'. Mayor Hylan, leading by example, purchased the first bond, while de Valera stated that 'it will be distinctly understood by each subscriber to the loan that he is making a free gift of his money. Repayment of the amount subscribed is contingent wholly upon the recognition of the Irish Republic as an independent nation.'
De Valera's time in America proved fruitful and in addition to securing almost $5,000,000 dollars for the Dail Loan, de Valera and the The Friends of Irish Freedom ensured that wherever he visited he was enthusiastically welcomed. In Boston, an estimated crowd of 70,000 people heard him talk in Fenway Park, while smaller crowds gathered in venues such as San Francisco where de Valera unveiled a statute of  Robert Emmett. By December 1920 de Valera decided to return to Ireland and a new phase of the War of Independence would commence.