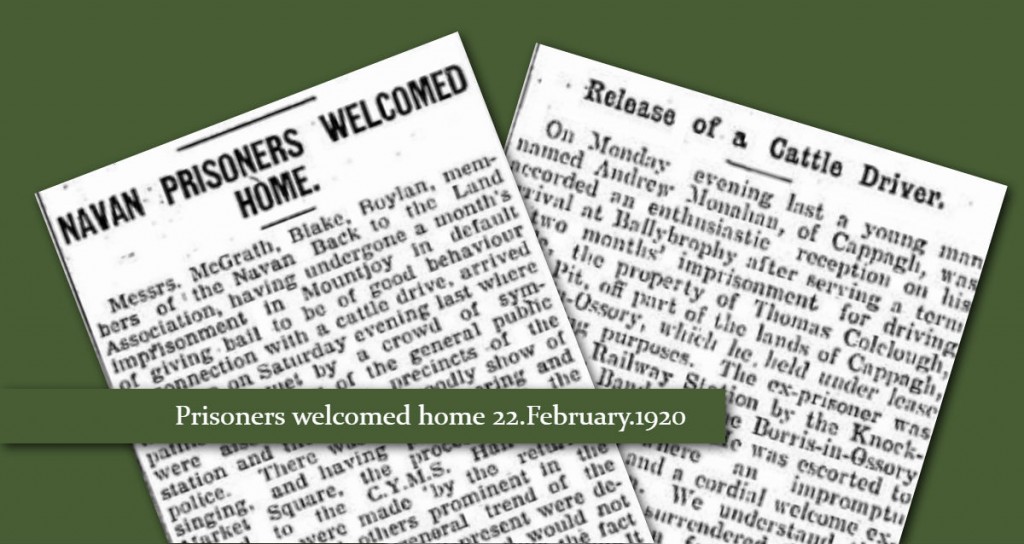 The release from prison of a man convicted to taking part in cattle drive was enthusiastically welcomed in Queen's County (Laois) in February 1920. Anthony Monohan of Cappagh, near Borris-in –Ossory was welcomed home by a large crowd who gathered at Ballybrophy train station having served two months in jail for driving cattle off the lands of Thomas Colcough near Borris-in-Ossory. Met by the Knocknaree Pipers Band and the Borris-in-Ossory Fife and Drum Band, Monahan was paraded through the streets, feted as a local hero.

During his term of imprisonment, Colcough had surrendered the lands on which the cattle drive had taken place, such was the level of animosity towards him and the growing agitation amongst small holders and landless people. In the coming months a number of other estates would be divided up following agitation. There were similar scenes in county Meath when cattle drivers were released from prison including at Navan where the 'Back to the Land Association' welcomed prisoners home 'amid much cheering and singing'. In Navan the tone of the speeches delivered reflected the view that the association was determined to secure land for people in the future. The speeches at Navan also came a number of days after land was targeted by cattle drivers and where a grave and wooden cross were placed on the land, suggesting the outcome for the owner if he did not comply with the agitators.
Download Source: Nationalist & Leinster times, 28 Feb 1920, page 5; see also Drogheda Independent, 21 Feb 1920; page 4.