The Funeral of Queen Victoria
Queen Victoria was crowned as monarch of the United Kingdom of Great Britain and Ireland in 1837 and had the longest reign in English history, 63 years, 7 months and 2 days.  However, Queen Elizabeth II will this year celebrate 63 years since becoming Queen, so the record of Queen Victoria might be broken in 2015.
Queen Victoria died on the 22nd of January 1901 and was buried on the 2nd of February. Her funeral preparations and the worldwide reactions to her death were captured by the Irish Newspapers, giving researchers a very large amount of information in one archive.
She was described by the Lord Mayor of Dublin at the time, Lord O'Brien as "that illustrious personality, which comprehended all that was august and venerable, and simple and sincere, and good and true".
Queen Victoria left a will which included all the particulars for her funeral. The Kildare Observer reported in 1901: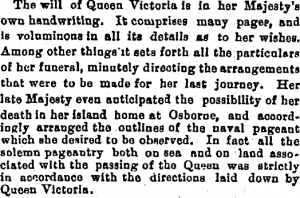 The Irish people reacted to the death and funeral of the Queen and many businesses were closed for the day on the 2nd of February. Many announced the one day closure through the papers.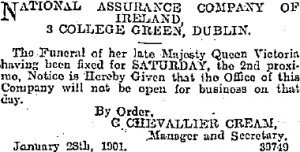 Also 20 Irish Policemen attended the funerals, among them Sergeant Edward Twiss, Tuckey Street Station, and Constable Denis O'Brien, Lower road Station, from Cork. (Irish Examiner, 1st of Feb 1901).
A great number of international royals also attended the funeral and the Irish newspapers announced their presence: the king of the Belgians, King Carlos of Spain, King George of Greece, the Czarevitch, representing the Emperor and Empress of Russia, the Crowne Prince is mentioned to have represented the German Emperor, and many more  heads of state or their representatives attended the funeral.
Furthermore, the German Emperor commanded that on the day of the funeral the "German Navy ships are to half-mast all flags and fly the British flag at the main" and Cape Town proclaimed solemn fast on the day.
The Irish Examiner also presents the action taken by the Limerick ladies: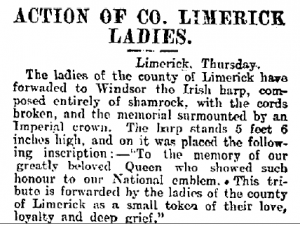 The Irish newspapers reported extensively about Queen Victoria's passing and funeral, as they did about other historical events happening worldwide. For a more detailed look into the way these events were captured, research our vast archives and discover all the interesting facts you never knew.