1916 Easter Proclamation - The Three Printers of the Proclamation
The real Story of the printing of the Easter Proclamation April 24th, 1916 by Nellie Cifford-Donnelly Irish Press 24.04.1934.  Read below and download the full page!!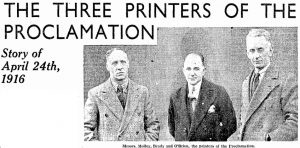 Extract from Irish Press 24.04.1934  - The  inside story of the setting up of the Proclamation of Easter Week has, I think, not yet been told in detail; yet it has all the elements of real drama in it. Three Dublin workers, members of the Dublin Typographical Provident Society, were those to whom this most dangerous but effective task was given. The printing press of the Republic was at Liberty Hall. An armed guard had to protect the machine against police raids, and it was in an exciting atmosphere that the three men set up and printed the Proclamation. Their names will always be linked with the Insurrection: they are: Christopher Brady,' printer; Michael Molloy and Liam O'Brien, compositors.
The activities of Liberty Hall included a co-operative shop run by the members. Miss Jennie Shanahan was manageress; Miss Helena Molony, secretary, and Miss Rosie Hackett worked as canvasser and traveller, and was called on to carry out many confidential jobs. (One of the products of the "Co-op," by the way, was a first-class workers' shirt, "The Red Hand," selling for half-a-crown—an unheard of thing then.) One could enter the machine room through "The Co-op" 31 Eden Quay, or through Beresford Place, the front of liberty Hall.
On the week if the Good Friday, the police came on from a raid on Joe Stanley's printing press, Liffey street. They rushed in the shop and proceeded to seize copies of the "The Gael", printed by Stanley. This was regarded by those in the Hall merely as an excuse for a general survey, for the feeling of an approaching crisis was in the air.
To keep reading download the page below:
If you want the facts, if you want the truth, if you want to read real events investigated by the people on the ground then join Irish Newspaper Archives. 300 years of Irish and world History at your finger tips!