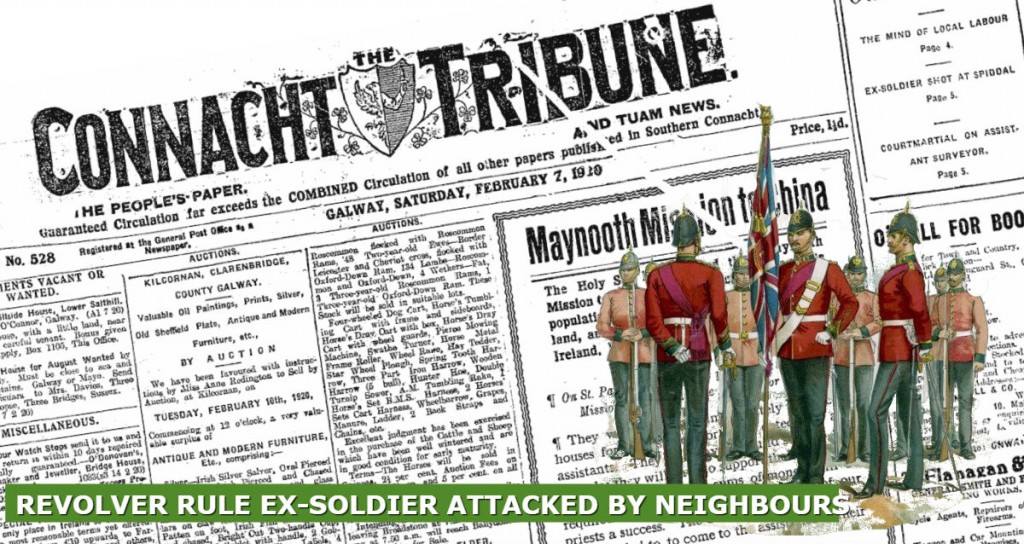 After a month of intense IRA activity across the country, the War of Independence continued unabated in February 1920. Becoming more daring in the process, the IRA continued to target the RIC and their barracks. Elsewhere, local issues and tensions would also surface, and in some cases they become embroiled in the struggle for Independence. February 1920 would be a month of chaos across the country.
REVOLVER RULE - EX - CONNAUGHT RANGER ATTACKED
In early February 1920 an attack on a former soldier at Spiddal, county Galway indicated the changing attitudes towards former members of the British army. No motive was given for the attack other than that Thornton had been in the British Army and had recently returned to live in the area. Having enlisted in the First World War with the Connaught Rangers, Thornton was wounded at Neuve Chapelle in November 1915. His return to the area at Christmas 1919 was not popular and by early February tensions flared. Having socialised in Watters Public House with his brother on the evening in question, Thornton left shortly after 10 pm and was soon accosted by upwards of twelve men. Having suffered a beating, Thornton was shot in the hip. The location where the attack took place was said to have the place where nine fishermen were blown up by a mine in June 1917. Lying dangerously ill and treated by Dr. Loftus of Spiddal, Thornton was brought first to the workhouse in Galway and later transferred to the county infirmary for an operation to remove the bullet. When he gave evidence, Thornton claimed that a man called Peter O'Malley, a teacher had fired the shot with a revolver while four others were also identified as having taken part in the attack- Pat Feeney, Brian Feeney, William Feeney, and John Folan. Thornton later died of his injuries on 12 February.
Download Source: Connacht Tribune 1909-current, Saturday, February 07, 1920 pg 5