One of the features of the Irish War of Independence was the ability of local communities to continue the movement to promote Irish games, language and customs despite the constant harassment from the military, which the organisers and attendees of these events faced.
While the GAA was prominent at promoting these events, in many areas the Gaelic League were drivers. Hosting concerts, or 'Aeridheacht' (an open air gathering), the league promoted the Irish language, music and customs. These occasions were also used to promote business and people who supported the 'Irish-Ireland' movement, including for example those who sold only Irish produce. In August 1920 an Aeridheacht on a big scale was held at Ardbraccan, county Meath which coincided with the celebration of St Ultan. Starting with the recitation of the rosary in Irish, the occasion revived the old custom of venerating this saint locally. It was followed by procession of bands from Navan to the towns show grounds where the crowds were entertained by football matches (including the then famous O'Tooles Club of Dublin); Gerald Crofts and Andrew Dunne prominent 'Irish Ireland artistes', and a ceilidh in the evening. Special trains were laid on for the occasion which attracted a large contingent who travelled from Dublin.
Source: Old Ireland, 28 August 1920, page 465.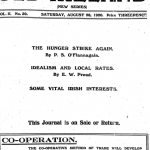 Old_Ireland_465