Ernie O'Malley's great account of the Irish War of Independence and the subsequent Civil War was entitled 'Raids and Rallies'.
In July 1920 raids of a different nature were carried out all across the country by the British military who were determined to exert their influence and to turn the tide of the war. In county Meath it seems not even a church was safe. At Bellewstown, the Catholic Church in the village was forcibly entered by the military who proceeded to search of weapons. The raid on Bellewstown was not an isolated incident and many priests who displayed republican sympathies were targeted by the military, particularly the newly arrived recruits in the summer of 1920. On the same day, a raid on the Bellewstown races in county Meath where the crowd were searched was an attempt to disrupt the social world of county Meath. Likewise, the inhabitants of the village of Rathduff, county Westmeath experienced the wrath of the military who raided more than forty houses on a single day. In Rathduff a young man named McCarthy was arrested and brought away by the military although there was no charge against him. In a clear sign that they were intent on preventing people from carrying out their daily activities the military searched all trains inbound and outbound in Mullingar, which caused difficulty for people and business in the midlands town.
Source: Irish Bulletin, 17 July 1920, page 1.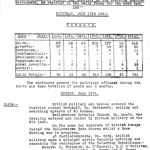 IrishBulletin July 1920