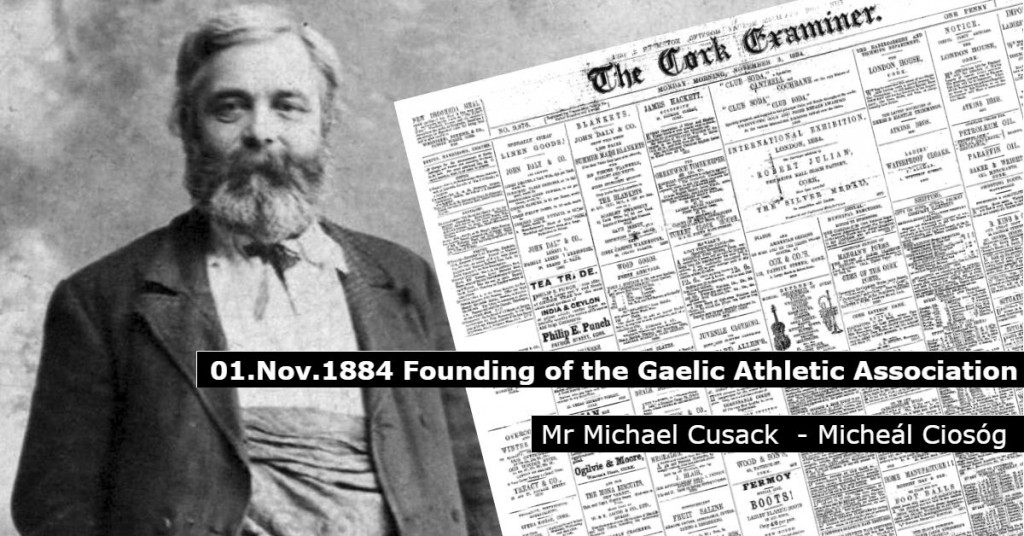 On 1 November 1884, a small and somewhat innocuous meeting took place in Thurles, County Tipperary attended only by a handful of men. However, from these humble beginnings would result the largest sporting organisation in Ireland today. Played in every village and town in the country, the formation of the Gaelic Athletic Association can be traced to this 'meeting of athletes and friends of athletes' at Miss Hayes' Commercial Hotel, Thurles. Gathered there this small group of men, led by Maurice Davin and Michael Cusack, were determined to provide 'amusements' for 'Irish people during their leisure hours' and form an organisation for the cultivation of our national pastimes which by this time were said to have been 'dead and buried' and 'in several localities to be entirely forgotten'.
This initial meeting was poorly attended when several of the important athletic clubs in the south of Ireland did not send representatives. Much of the early worries were about how they would finance the movement but these considerations were soon side-lined when the delegates present spoke of their enthusiasm for such an organisation. One delegate queried 'why should we not have athletic festivals like other people- I mean on a national scale', while another complained that Irish affairs were constantly dictated to by Englishmen. For the record Other founding members present were John Wyse-Power, John McKay, J.K. Bracken, Joseph O'Ryan and Thomas St George McCarthy. By the end of the decade, the GAA had sprung to life and would lead the great cultural reawakening, which would define the next fifty years of Irish society.
Today, the GAA has over 2,200 clubs in all thirty-two counties of Ireland and has close to 500,000 members worldwide. It is part of the Irish consciousness and plays an influential role in Irish society that extends far beyond the basic aim of promoting the playing of Gaelic games.
#GAA, #History, #Ireland
Source Newspaper: www.irishnewsarchive.com - Irish Examiner, 3 November 1884
Photo By Unknown - NUI Galway Digital Collections, Public Domain, https://commons.wikimedia.org/w/index.php?curid=69710947