This week in history 9th - 15TH February
This week in history has been a turning point politically, for South Africa, a major stepping ground for sports and the entertainment industry. In recent years, this week has been a week dedicated to Saint Valentine's Day.
9th of February
In 1895 W G Morgan invented the game of Volleyball in Massachusetts. He first called it "Mintonette".
This week in history marks new beginnings in tennis.In 1900, Dwight Davis from Harvard, designed a new tournament and established a new tennis trophy, the Davis Cup. The first competition was between USA and the British Isles. Ireland first participated in the competition in 1923.
10th of February
On this day in 1940, Tom & Jerry, one of the most loved cartoons by children and adults everywhere, and created by Hanna & Barbera made its debut on MGM.
This day marks the 10th anniversary of the announcement of Prince's Charles engagement to Camilla Parker Bowles. The subject made headlines in all Irish Newspapers: http://archive.irishnewsarchive.com/olive/apa/ina/SharedView.Article.aspx?href=IND%2F2005%2F02%2F11&id=Ar00103&sk=88A30964
11th of February
On this day in 1948 - John Costello becomes the Taoiseach, following Eamon Da Valera.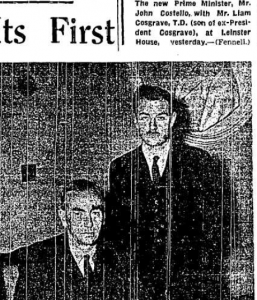 In 1990, on the 11th of February, Nelson Mandela was released from prison after 27 years. Read what Charlie Haughey had to say on the occasion. http://archive.irishnewsarchive.com/olive/apa/ina/SharedView.Article.aspx?href=SIN%2F1990%2F02%2F11&id=Ar00102&sk=BCCC5F95
12th of February
The First stone of the Lincoln Memorial was put in place exactly 101 years ago, in Washington D.C.
On this day in 1964, history was written when The Beatles had their First NYC concert in Carnegie Hall.
13th of February
Take a break and indulge with one of the best waltzes, "Blue Danube" by Johann Strauss, which premiered 148 years ago where else, but in Vienna.
It' is now 43 years since "Grease" opened on Broadway. A little known fact is that Richard Gere played Danny's part one year later in the London Premiere.
14th of February
Happy Valentine's Day! Read about the history and myths of this special day http://archive.irishnewsarchive.com/olive/apa/ina/SharedView.Article.aspx?href=FMH%2F2002%2F02%2F06&id=Ar01303&sk=5D75603D
Also, this week in history had a major impact in the online industry. Today Youtube is 10 years old!! Launched by a group of college students, the video sharing website is the largest of its kind in the world and one of the main digital platforms we have today.
15th of February
Greece becomes the last European country to adopt the Gregorian Calendar on this day in 1923. Ireland switched at the same time with Great Britain, in 1752.
In 1898, one of the first American battleships, the USS Maine, weighing more than 6,000 tons and built at a cost of more than $2 million, sunk in Cuba's Havana Harbour. 260 out of almost 400 crew members were killed in the tragic event. The cause was an unknown explosion.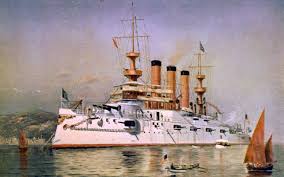 For more interesting events which happened this week in history, explore the archives and discover how they were portrayed in the newspapers of the time.