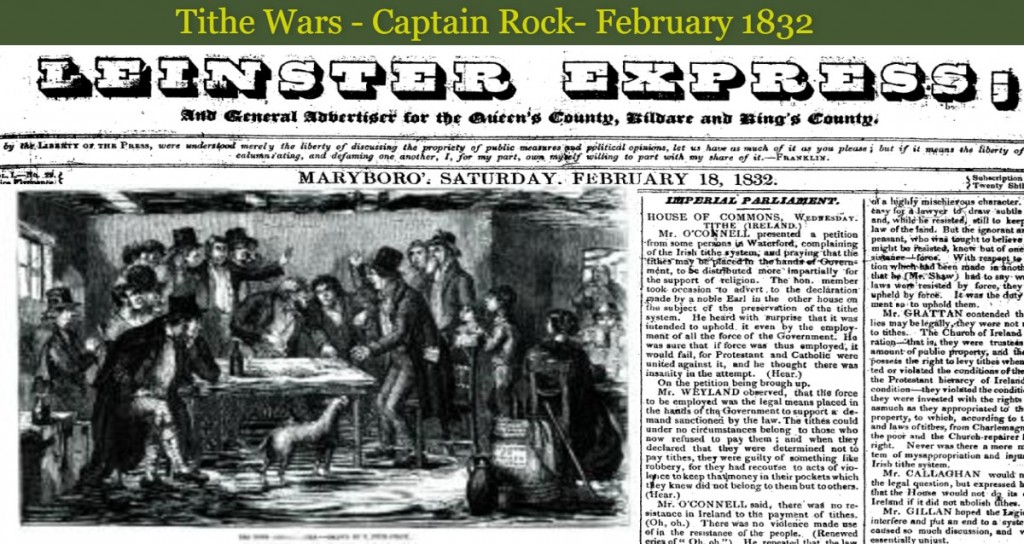 February in History & the Irish Newspaper Archive. We look back at events in history in the month of February through the pages of the Irish Newspaper Archive and the Radical Newspaper Archive.
In February 1832 Ireland was in a state of crisis owing to continued Cholera epidemic and also because of agitation and lawlessness stemming from anti-tithe opposition. Tithes were a payment of usually 1/10 of a farmers produce to the Church of Ireland and it was a tax which was resented by people of all denominations. The 1830s would become known as the era of the 'Tithe Wars' owing to the level of crime and disturbances which the tax generated. In county Kilkenny a young woman was kidnapped by the secret society who styled themselves 'Rockites' or 'Captain Rock'. This was one of several attacks on life and property in the Kilkenny/ Laois area. At Ballyfin a man named Chester's house was attacked by an armed party who shot his son in the back of the head. In the same village a man named James Thompson was attacked and his wife threatened to give up her husbands gun. At Mountmellick a poor woman named Connor was attacked returning from the town as it was known she had recently pawned items of clothing. At Luggacurren near Ballylinan a man named Loughlin Dooley was severely beaten and warned to give land he had recently taken. On the same night the party attack the nearby homes of Patrick Gaffrey and William Lalor and demanded that they also give up land. All across Laois similar threats were issued as the growing population of the country put further pressures on resources. Nowhere was free from crime and even in daylight robberies took place. A 'Bianconi Car' travelling from Waterford to Dungarvan was held up and the all of the passengers robbed of their possessions.
Source: Leinster Express, 17 Feb 1832, page 3.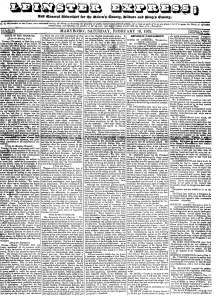 Twitter: @IrishNewspapers 
February in History
:  Crime & violence in #Ireland in 1832 during what was known as the #Tithe Wars  #Laois #Kilkenny #genealogy #irishhistory