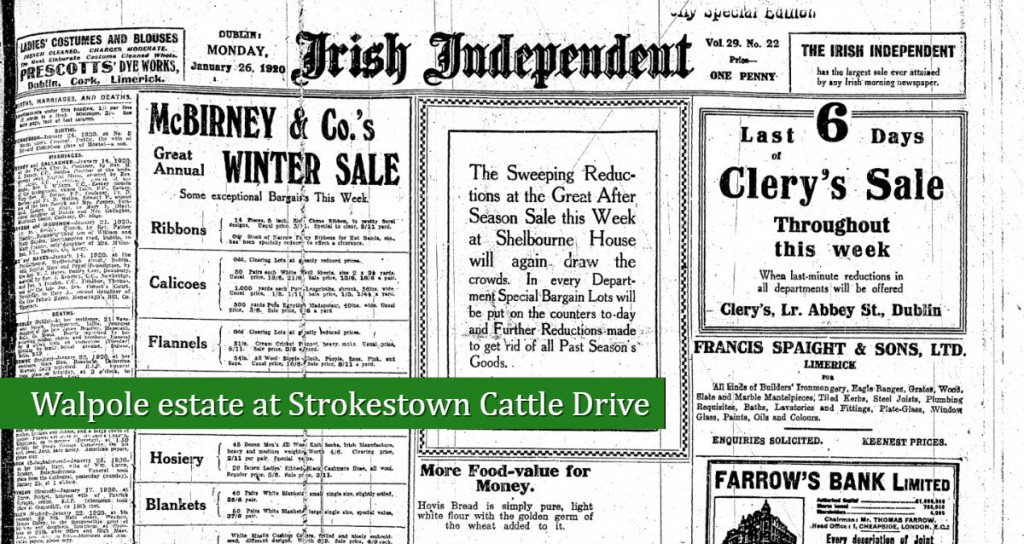 In January 1920 the War of Independence intensified with the IRA carrying out a number of offensives in almost every county. To mark the anniversary of this aspect of the campaign, this month we offer stories about the conflict as reported by the newspapers of the day.
Walpole Ranch Ambush 26.January.1920
Roscommon was a county that witnessed a number of cattle drives during the days of the Ranch War in the early part of the twentieth century. Driven by the United Irish League the modus operandi of many of the cattle drives was to force the sale or break-up of land.
In the middle of January 1920 an incident occurred at a place called Cloneen, Hartland near Strokestown which rekindled memories of the Ranch War. On this occasion, James Hanley with others were charged with an attempt to drive cattle off the Walpole estate at Strokestown. Accompanied by an RIC Constable Cahill, two police officers and his son, the owner of the estate W.J. Walpole was ambushed when checking on his cattle by a number of men who entered from the road. In an effort to disperse, the group Walpole and his son fired a number of shots in the air. Constable Cahill and George Walpole pursued some of the men and managed to capture Hanley. Having searched him, he was found to have in his possession three notices calling on Walpole to give up his land. Defending the accused, PJ Neilan claimed that it was unfortunate that Walpole had fired on the men assembled and that they were only merely exercising a right to walk through his lands. Roscommon, he claimed, was a county free of crime and the firing of weapons would not help to calm matters. However, it was widely known that there had been trouble at the Walpole estate over several generations dating back to the Land War of the early 1880s. The following week Walpole brought a case before the Strokestown Petty Sessions for damage done to gates and fences. The cattle drives would occur again in April and May of 1920, when during the latter it took Walpole more than ten days to recover the animals which had been driven from his lands.
Download Source: Irish Independent, 26 January 1920, page 3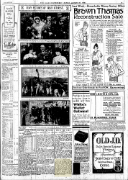 Irish Independent 26.January.1920 Walpole Ranch Cattle Drive