W B Yeats - William Butler Yeats

, (born June 13, 1865, Sandymount, Dublin, Ireland—died January 28, 1939, Roquebrune-Cap-Martin, France), Irish poet, dramatist, and prose writer, one of the greatest English-language poets of the 20th century. He received the Noble Prize for Literature in 1923.
Download the newspapers from January 30th 1939 to read how one of Ireland's most celebrated Nobel prize winners was regarded. FREE download below.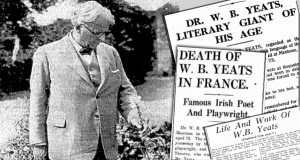 Remember one of Ireland's leading lights; download and save the newspapers: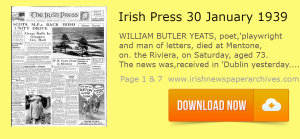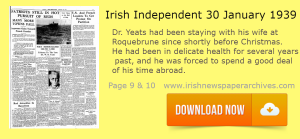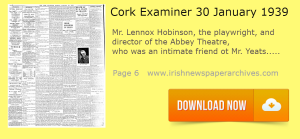 William Butler Yeats
Yeats's father, John B Yeats was a barrister who eventually became a portrait painter. His mother, formerly Susan Pollexfen, was the daughter of a prosperous merchant from Sligo. Through both parents Yeats (pronounced "Yates") claimed kinship with various Anglo-Irish Protestant families who are mentioned in his work. Normally, Yeats would have been expected to identify with his Protestant tradition—which represented a powerful minority among Ireland's predominantly Roman Catholic population—but he did not. Indeed, he was separated from both historical traditions available to him in Ireland—from the Roman Catholics, because he could not share their faith, and from the Protestants, because he felt repelled by their concern for material success. Yeats's best hope, he felt, was to cultivate a tradition more profound than either the Catholic or the Protestant—the tradition of a hidden Ireland that existed largely in the anthropological evidence of its surviving customs, beliefs, and holy places, more pagan than Christian.
"One of Ireland's Greatest Sons"
Mr. Lennox Robinson, Director oi the Abbey Theatre, said in a tribute last night to Dr. Yeats:— "W. B. Yeats was the finest poet writing in English for over the last 100 years, and was certainly among Irish poets the equal of Moore and Mangan and Tennyson. He lived to a ripe age, but never echoed himself as did Tennyson or Burns. "' He was one of the most modern of the moderns, and every young poet looked to him as his model. He made Ireland's national theatre the Abbey Theatre—and wrote the best poetic drama for it. Ireland has lost one of her greatest sons and the world has lost one of her greatest poets. "He was my dearest friend for twenty and more years."
Join Irish Newspaper Archives and read the real events from Ireland's great past.