A wave of petrol bombings and burnings hit Dublin last night in reaction to the Derry's Bloody Sunday killing of 13 civilians.
News Pages from 02 February 1972
As the Irish Republic tries to come to terms with the death of 13 civilians in Derry's Bloody Sunday angry protests turn to

violence.  Read the events from today 45 years ago and download 3 of the Nations Leading daily newspapers to view the reaction from Ireland  and the world to the shooting of 13 civilians. Download pages Below:

  Extract; Irish Press 02nd February 1972 -  A SMALL GELIGNITE BOMB was hurled from a group of demonstrators at the British Embassy in Merrion Square last night. A garda was injured in the blast, caused by an estimated five pounds of gelignite. A second bomb was believed to be in front of the building. There was traffic chaos when hundreds spilled on 4o Mount Street after the explosion.
Download Papers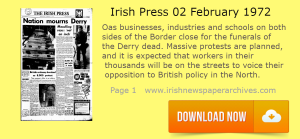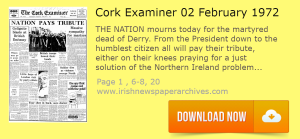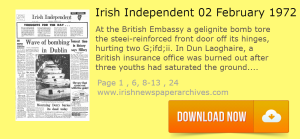 Irish Independent 1905-current, Wednesday, February 02, 1972 pg 1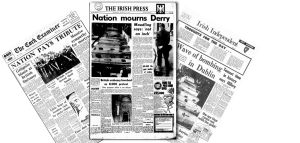 300 years of Irish History waiting for you with a membership to Irish Newspaper Archives.