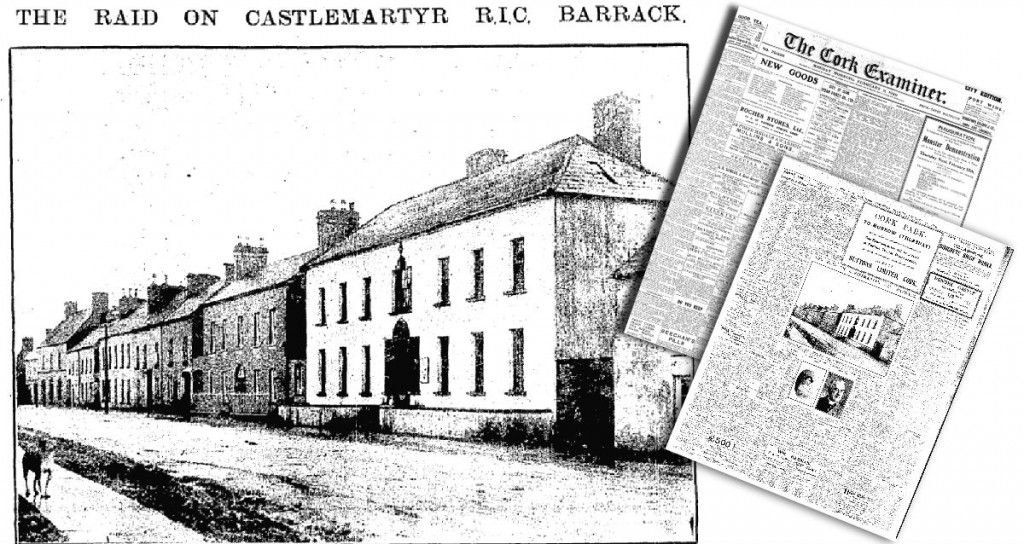 After a month of intense IRA activity across the country, the War of Independence continued unabated in February 1920. Becoming more daring in the process, the IRA continued to target the RIC and their barracks. Elsewhere, local issues and tensions would also surface, and in some cases they become embroiled in the struggle for Independence. February 1920 would be a month of chaos across the country.
The 'latest chapter', according to the Cork Examiner newspaper, of raids on RIC barracks was carried out at Castlemartyr, county Cork. The village selected for the raid was also 'of the usual type, that being of about 500 inhabitants, but was according to the report 'no sleepy hollow'.
However, the attack in Castlemartyr was the best arranged and most efficiently carried out attack at the point of revolvers. In the early evening, the arrival of large bodies of men was seen as suspicious and just after 9pm quietness fell over the village. Then following a whistle, about twenty men approached the barracks, with one claim that they sang a song in doing so. About thirty to forty waited outside while another detailed party, numbering about twenty men patrolled the roads elsewhere. In total, almost 100 men were involved in the attack. Entering the barracks, the armed men remained there for over ten minutes. There were eight RIC men present in the barracks but it was known locally that some were off duty or had returned home briefly. Two RIC men Sergeant O'Brien and Constable Collins were returning from the fair at Midleton and were apprehended and tied up during the duration of the attack, while a cloak was also placed over their heads to prevent them from identifying their attackers. Two workmen who arrived at the scene were also arrested. Two constables who had left the barracks to return home were also accosted in a very carefully planned attack. One of the police men in the barrack refused to surrender but he was soon persuaded to do so. When they remerged there was loud cheering as the raiders took with them carbines, bayonets, revolvers and ammunition and the Castlemartyr attack proved to be a resounding success for the local IRA.
Download Cork Examiner, 9 February 1920, page 5. See also Cork Examiner, 11 February 1920, page 3 (for a picture of the barracks).