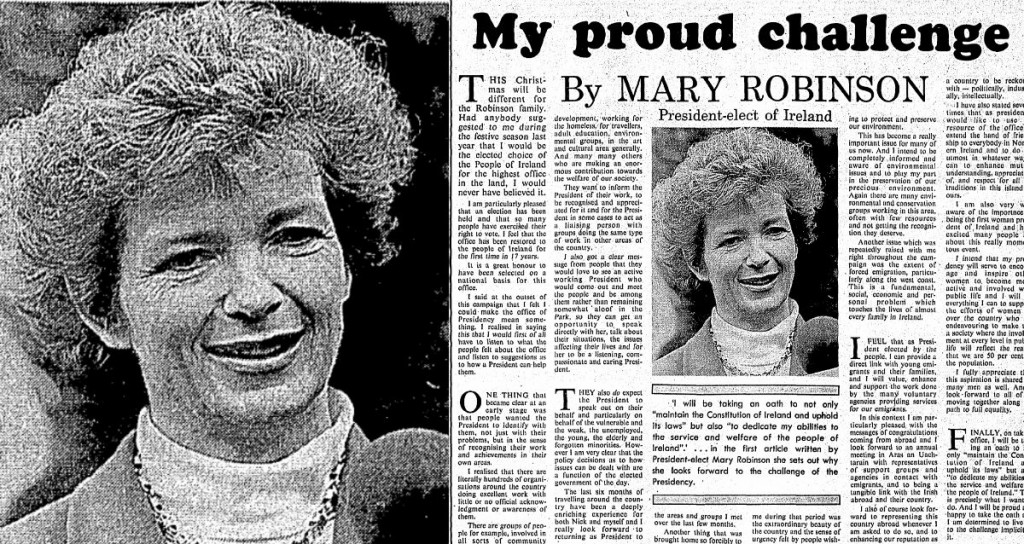 8 November.1990 Mary Robinson elected of Ireland
Twenty-nine years ago today the Republic of Ireland elected its first female President when Mary Robinson was declared the winner of the presidential election. Robinson, who had won the hearts of people of all ages and political persuasions claimed that it was a 'great day for the women of Ireland, a great, great day'.
The election saw veteran Fianna Fail TD Brian Lenihan; SDLP politician, Austin Currie and Robinson, a Senator (and supported by the Labour Party and the Workers' Party) go head to head.
However, the election was not without controversy. During the campaign, it emerged that Lenihan had applied pressure on former President Patrick Hillery during an earlier political crisis and his candidacy was in jeopardy. Initially denying this, Lenihan was forced to backtrack on 'mature recollection' when a tape of him admitting it was leaked. In the end, the so-called 'Rainbow' coalition delivered a massive personal vote for Robinson.
In a specially written piece for the Sunday Independent, the president-elect outlined what for her was a 'proud challenge' to represent the people of Ireland as their president. Throughout the campaign, Robinson spoke about her great interest in the plight of Irish emigrants, of the Irish abroad and about representing Ireland abroad. Robinson was inaugurated as the seventh President of Ireland on 3 December 1990.
Robinson proved a popular choice as President and during her term in office, she oversaw the signing into law two very important bills for which she had long advocated, those relating to the sale of the availability of contraceptives and the decriminalisation of homosexuality.
Her presidency would also help portray the role of the president in a new light to the people of Ireland and elsewhere. In particular, her role and in interest in visiting countries and regions afflicted by Famine and disease led to her subsequent appointment as United Nations High Commissioner for Human Rights.
Source newspaper: www.irishnewsarchives.com Sunday Independent, 11 November 1990.
How to the race was won: Download Sunday Independent 08.November.1990
My Proud Challenge: Download Sunday Independent 08.Nov.1990