Happy New Year and best of luck to all in 2017.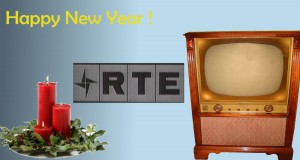 Many of you reading this post are probably watching TV at the same time or even commuting while reading your Irish Newspaper Archives updates, so just imagine the excitement the country must have felt as on this day 31st December 1961 at 19:00 Radio Éireann's television went out to the Nation with its first broadcast.  With the New Year celebrations ahead the county waited with bated breath for the opening broadcast by President  de Valera. The weather was ice cold with Arctic conditions and freezing frost.
The President; Mr de Valera opened the TV broadcast; " Keep our distinctive personalities alive" Irish TV was launched in confidence and happy spirit. The last hours of 1961 saw the Irish - television service Inaugurated by he President, Mr. de Valera, and, as the first pictures flashed into thousands of homes a new era in Irish social life had begun. 
Download pages from The Irish Independent, Irish Press, Cork Examiner and The Sunday Independent below.
We at Irish Newspaper Archives would like to wish you and all your friends and family a Happy New Year and best of luck in 2017.
Irish Examiner 1841-current, Monday, January 01, 1962
Sunday Indo Page 5 RTE 31.12.1961
iRISH indo Monday, January 01, 1962