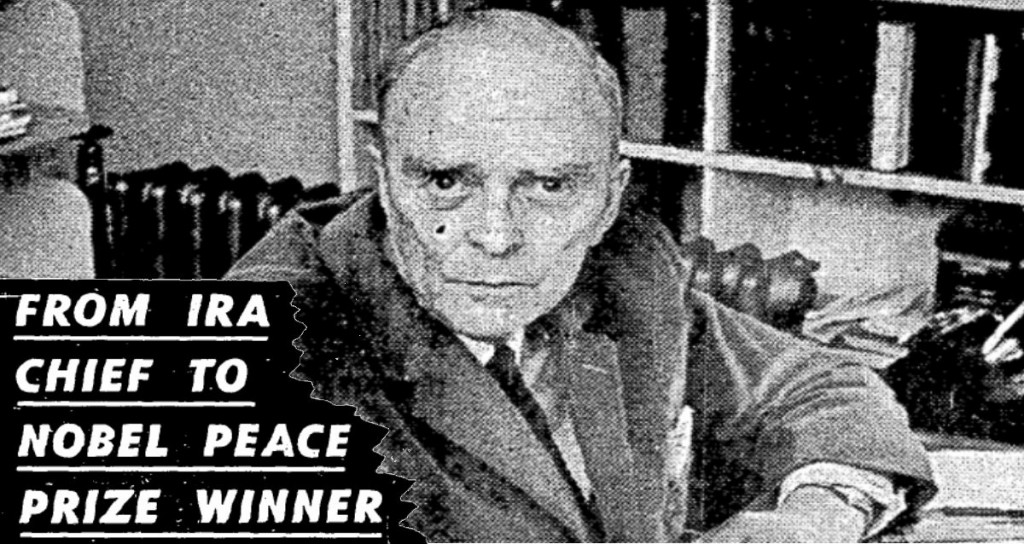 Sean MacBride Awarded Nobel Peace Prize
On this day in 1974 Sean MacBride was awarded the Nobel Peace Prize for his efforts on behalf of human rights, among other things as one of the founders of Amnesty International.
In 1974 he was also Chairman of the International Peace Bureau and Assistant Secretary-General of the United Nations, and had recently been elected UN Commissioner for Namibia. A prestigious award for MacBride and Ireland, it was even more so considering the journey he had taken throughout his lifetime. A son of Major John MacBride, executed for his part in the 1916 rising, and Maud Gonne, a republican and suffragette, MacBride had joined the IRA at aged thirteen. Active during the Irish War of Independence and the Civil War which followed, MacBride continued to be active in the IRA until the 1930s. Turning to the legal profession MacBride late became a member of the Cumman Na Poblachta party which formed the first interparty government in Ireland. Appointed as Minister for External Affairs, he also played a role in the establishment of the Council of Europe, and in the preparation of the European Convention on Human Rights of 1950. He was the co-founder of Amnesty International (1961), a non-governmental organisation opposing violations of human rights, which was granted the Nobel Peace Prize (1977) and the United Nations Human Rights Prize (1978) for services to peace. Among a host of other international positions which he held, from 1963-1979 MacBride was Secretary-General of the International Commission of Jurists (ICJ) and was appointed to the post of United Nations Commissioner for Namibia with rank of Assistant Secretary-General of the United Nations from 1973-1977. Sean MacBride died in January 1988 and is buried in Glasnevin Cemetery. Speaking about MacBride following his death, an Taoiseach Charles Haughey stated that he was 'a statesman of international status' and one who had provided enormous service to Ireland.
Download: Sunday Independent 1906-current, Sunday, December 08, 1974 page 14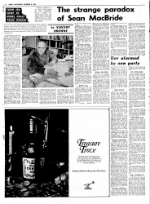 www.irishnewsarchive.com Sunday Independent 1906-current, Sunday, December 08, 1974; Page: 14